Vail, CO Gopher & Ground Squirrel Services
Maintaining a well-kept property is hard enough without worrying about gophers and ground squirrels. Gophers and ground squirrels are damaging pests that burrow underground and feed on nearby grass and vegetation. When gophers or ground squirrels emerge from their underground tunnels, they create unsightly dirt mounds that cause trip hazards throughout your yard. When gophers or ground squirrels make their way into your yard, it's time to reach out to a professional for assistance. Thankfully, the experts here at RAM Pest Control are here to help!
RAM Pest Control is your local authority on pest problems in Vail, Colorado. Our family owned and operated pest control company strives to exceed the expectations of the communities we serve. We employ expert technicians who keep up with advancements in the pest control industry and continue their education in order to offer the best pest control services available. With over 25 years of experience solving pest problems in a number of Western Colorado service areas, we are well-equipped to help you eliminate gopher or ground squirrel problems from your property. For more information about us or our services, contact us today.
What Are Gophers?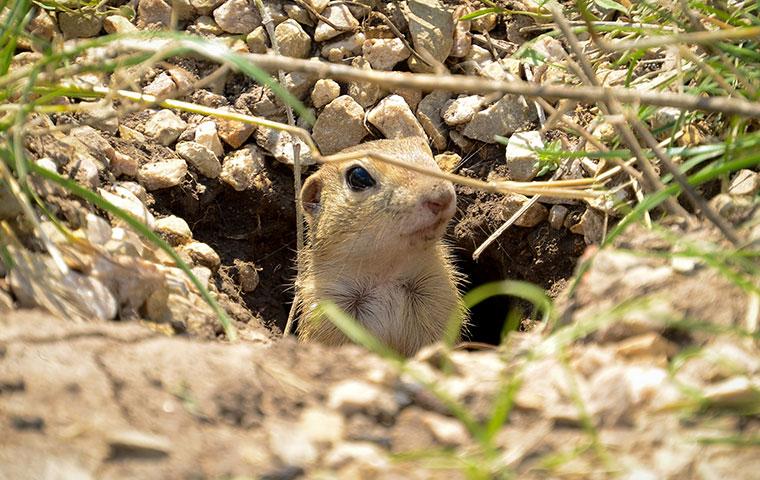 Before we discuss our gopher control methods, let's cover some facts about gophers in the Vail area. Four species of pocket gophers are local to Colorado — the plains pocket gopher (Geomys bursarius), northern pocket gopher (Thomomys talpoides), Botta's pocket gopher (Thomomys bottae; formerly called the valley pocket gopher), and yellow-faced pocket gopher (Pappogeomys castanops).
Distinguishing these four species of pocket gophers in Colorado can be relatively easy:
The northern and Botta's pocket gophers have smaller bodies and proportionately smaller front feet than the plains and yellow-faced pocket gophers and smooth upper incisors with a single indistinct groove near the inner border.
The northern pocket gopher is dark-colored with a white chin; the Botta's pocket gopher is reddish-brown with a black chin and red belly.
The plains pocket gopher has two distinct grooves on the front surface of each upper incisor, whereas the yellow-faced pocket gopher has one distinct groove.
Pocket gophers can reduce the productivity of alfalfa fields and native grasslands by 20 to 50 percent. In addition, gophers sometimes damage trees by girdling or clipping stems and by pruning roots, and they may destroy underground utility cables and irrigation pipes. For this reason, you should always request professional help with handling gopher activity in your garden or yard.
Introducing Burrow RX For Your Gopher Control Needs
We are excited to introduce our Burrow Rx Burrowing Rodent Control Device for the ultimate gopher and ground squirrel control experience in Vail and throughout Western Colorado. Burrow Rx effectively eliminates gophers and chipmunks, ground squirrels, moles, voles, prairie dogs, and other ground-burrowing pests.
Classified as a pesticide device by the Environmental Protection Agency, Burrow Rx releases carbon monoxide into underground burrows created by these pests. This carbon monoxide device utilizes smoke oil tracing to show where the carbon monoxide is going. Once the carbon monoxide has dissipated, there is no longer a risk to anything entering the burrow system.
Sierra Research Laboratories, Inc. of Modesto, CA, evaluated the Burrow Rx Burrowing Rodent Control Device for efficacy against natural populations of ground squirrels located in central California field sites. Reach out to learn more about the results of this study or ask questions about our gopher and ground squirrel control program.
What Are The Benefits Of Burrow Rx?
When you schedule a gopher or ground squirrel control treatment using our Burrow Rx system, you receive the following benefits:
It provides a low-impact and efficient solution for burrowing rodent eradication.
It does not involve the utilization of rodenticide.
It directly targets ground-burrowing rodents within a burrow system.
It seldom requires the handling of animals after treatment, reducing the risk of disease and parasite transmittance to humans.
There are no secondary toxicity concerns for scavengers and predators.
There is no reliance on bait acceptance that often hinders exterior rodent control efforts.
Burrowing pests should never be allowed to remain unchecked on any property. Reach out today and request a Burrow Rx service for your yard!
Reliable Pest Management That Is Affordable & Effective
At RAM Pest Control, we've created our dependable reputation by building relationships with Aspen area communities over the last 20 years. Our promise to every customer is that we are here for you 24/7, 365 days a year. When you team with us, we will ensure your needs are met and eliminate any pests that threaten you and your property! To learn more about our guaranteed residential pest control and commercial pest control programs in Vail that will exceed your expectations, contact RAM Pest Control today!
Request Your Free Inspection
Complete the form below to schedule your no obligation inspection.